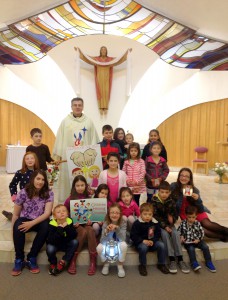 One Family in Mission – We Are all Missionaries!
CHILDREN HELPING CHILDREN
First heard at Baptism, the call to share our faith — to be missionaries — is truly connected to every moment of every day. The Missionary Childhood Association (MCA) offers young Catholics and their families opportunities to make those daily connections.
Forming Missionary Disciples!
"I encourage educators to cultivate in little ones the missionary spirit, so that there may arise from among them witnesses of the tenderness of God and announcers of his love." — Pope Francis, Solemnity of the Epiphany 2015
Statistics
Throughout the world, the Catholic Church runs 71,188 kindergartens with 6,728,670 pupils; 95,246 primary schools with 32,299,669 pupils; and 43,783 secondary schools with 18,869,237 pupils.  The Church also runs some 115,000 healthcare / charity centers throughout the world.